1. Brazing material
(1) The bonding strength of several commonly used solders for copper and brass brazing is shown in table 10.
Table 10 strength of copper and brass brazed joints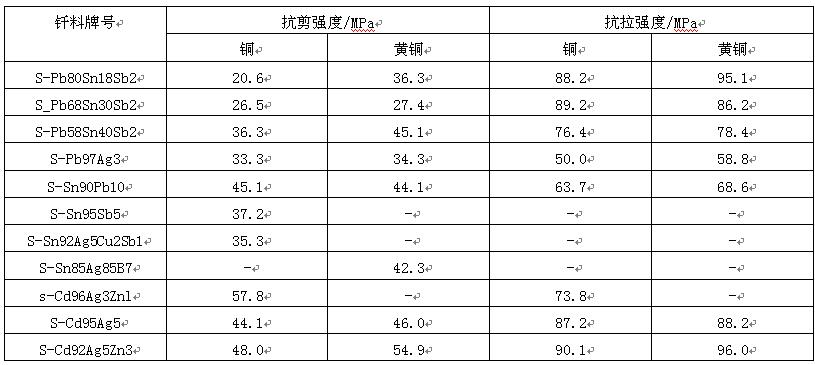 When brazing copper with tin lead solder, non corrosive brazing flux such as rosin alcohol solution or active rosin and zncl2+nh4cl aqueous solution can be selected. The latter can also be used for brazing brass, bronze and beryllium bronze. When brazing aluminum brass, aluminum bronze and silicon brass, the brazing flux can be zinc chloride hydrochloric acid solution. When brazing manganese white copper, the injection agent can be phosphoric acid solution. Zinc chloride aqueous solution can be used as flux when brazing with lead based filler metal, and fs205 flux can be used when brazing with cadmium based filler metal.
(2) When brazing copper with brazing filler metals and fluxes, silver based filler metals and copper phosphorus filler metals can be used. Silver based solder is the most widely used hard solder because of its moderate melting point, good processability, good mechanical properties, electrical and thermal conductivity. For the workpiece requiring high conductivity, b-ag70cuzn solder with high silver content shall be selected. For vacuum brazing or brazing in protective atmosphere furnace, b-ag50cu, b-ag60cusn and other brazing materials without volatile elements shall be selected. Brazing filler metals with low silver content are cheap, have high brazing temperature and poor toughness of brazed joints. They are mainly used for brazing copper and copper alloys with low requirements. Copper phosphorus and copper phosphorus silver brazing filler metals can only be used for brazing of copper and its copper alloys. Among them, b-cu93p has good fluidity and is used for brazing parts not subject to impact load in Electromechanical, instrument and manufacturing industries. The most suitable gap is 0.003 ~ 0.005mm. Copper phosphorus silver brazing filler metals (such as b-cu70pag) have better toughness and conductivity than copper phosphorus brazing filler metals. They are mainly used for electrical joints with high conductivity requirements. Table 11 shows the joint properties of several common brazing materials used for brazing copper and brass.
Table 11 properties of copper and brass brazed joints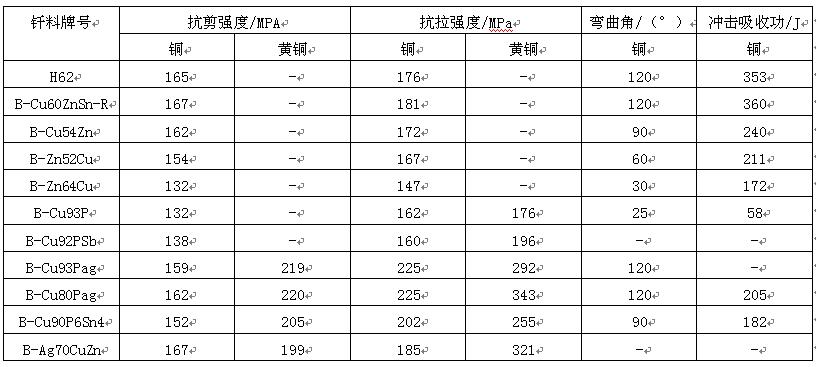 ---
Post time: Jun-13-2022