High Temperature Vacuum Debinding and Sintering furnace
Product Detail
Product Tags
1. High temperature uniformity and thermal efficiency
2. Multi-zone independent temperature control, vacuum partial pressure function
3. The main body adopts high temperature resistant material, which satisfies the carbonation heating process of thin and medium and thick granule WC powder and composite material.
4.Adopt the combination mode of temperature control。
5.Graphite heat shield, graphite heating element,360-degree surround radiant heating.
6.A variety of condensation trapping methods to reduce unit pollution
7.Nitrogen purging system has better insulation and degreasing.
8.Patented insulation technology to ensure the long-term use of heating body
9.Exhaust gas combustion and filtration system meets emission standard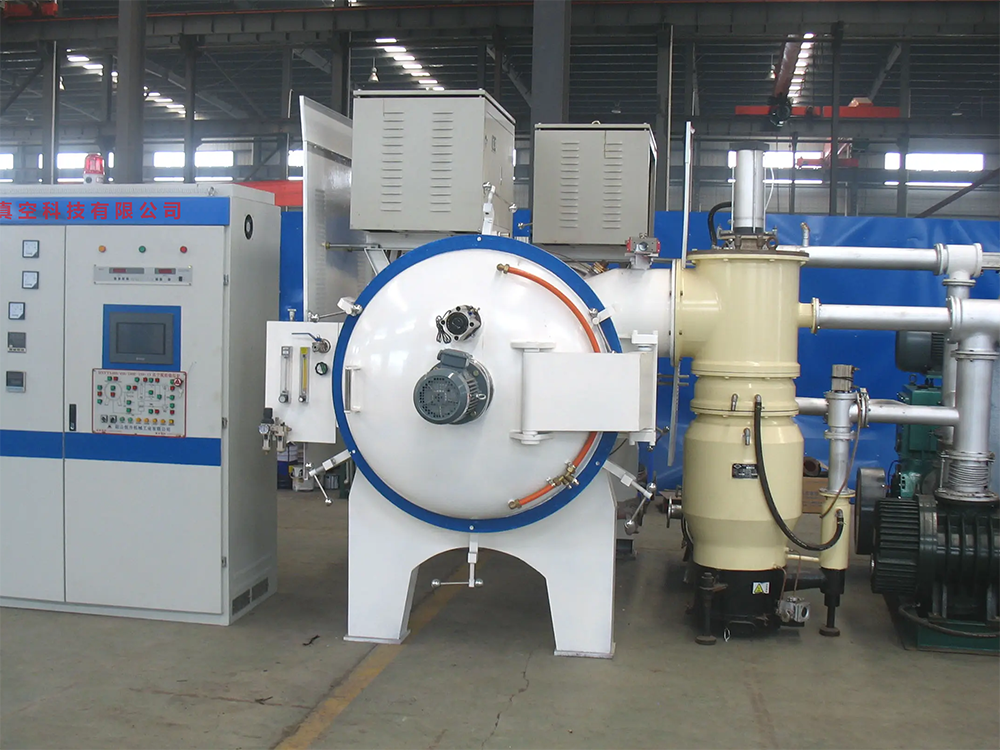 Standard model specification and parameters
Model
PJSJ-gr-30-1600
PJSJ-gr-60-1600
PJSJ-gr-100-1600
PJSJ-gr-200-1600
PJSJ-gr-450-1600
Effective Hot Zone LWH (mm)
200*200*300
300*300*600
300*300*900
400*400*1200
500*500*1800
Load Weight(kg)
100
200
400
600
10000
Heating Power (kw)
65
80
150
200
450
Maximum Temperature(℃)
1600
Temperature control accuracy(℃)
±1
Furnace temperature uniformity(℃)
±3
Work Vacuum Degree(Pa)
4.0 * E -1
Pumping rates(to 5 pa)
≤10 min
Pressure raise rate (Pa/H)
≤ 0.5
Debinding rate
>97.5%
Debinding method
N2 in negative pressure,H2  in atmosphere
Input gas
N2,H2,Ar
Cooling method
inert gas cooling
Sintering method
Vacuum sintering,partial pressure sintering,pressureless sintering
Furnace structure
Horizontal, single chamber
Furnace door opening method
Hinge type
Heating elements
Graphit heating elements
Heating chamber
Composition structure of Graphit hard felt and soft felt
Thermocouple
C Type
PLC & Electric elements
Siemens
Temperature controller
EUROTHERM
Vacuum pump
Mechanical pump and roots pump
Customized optional ranges
| | |
| --- | --- |
| Maximum temperature | 1300-2800 ℃ |
| Maximum temperature degree | 6.7 *  E -3 Pa |
| Furnace structure | Horizontal,Vertical, single chamber |
| Door opening method | Hinge type, Lifting type,Flat type |
| Heating elements | Graphit heating elements, Mo heating elements |
| Heating chamber | Composed Graphit felt, All metal reflecting screen |
| Vacuum pumps | Mechanical pump and roots pump; Mechanical, roots and diffusion pumps |
| PLC & Electric elements | Siemens;Omron;Mitsubishi;Siemens |
| Temperature controller | EUROTHERM;SHIMADEN |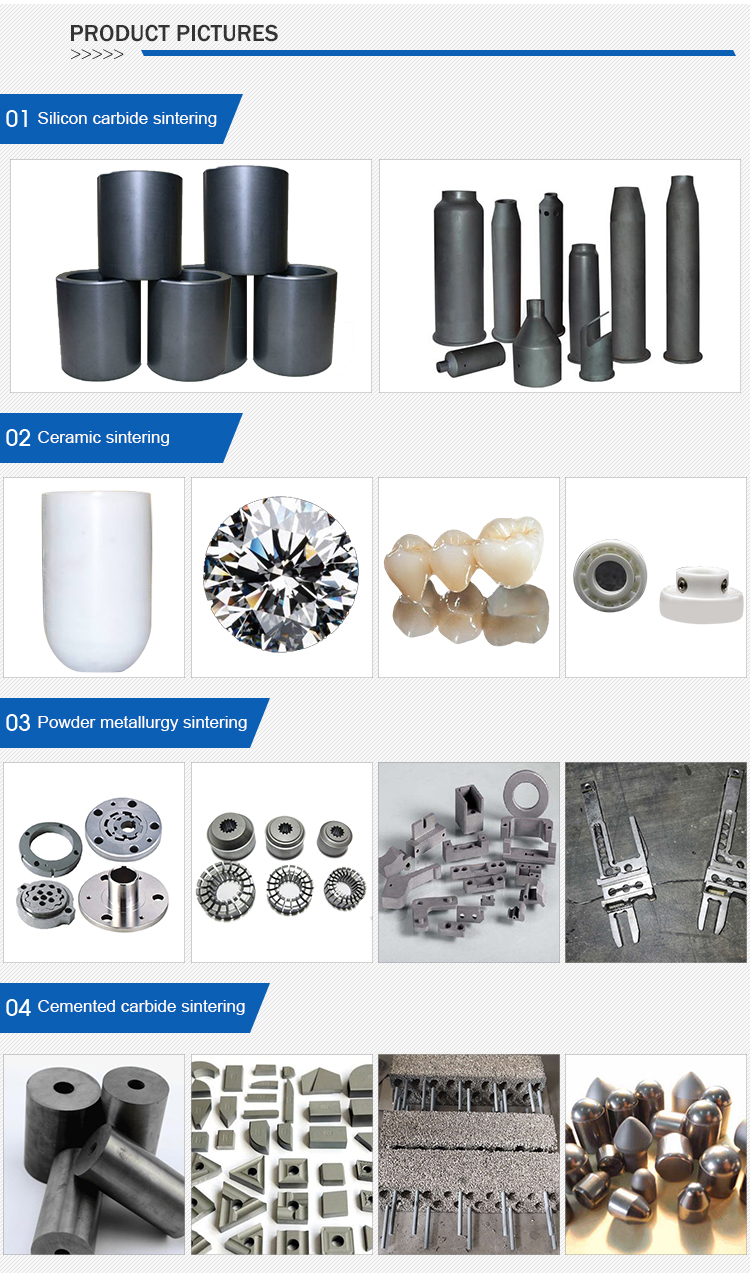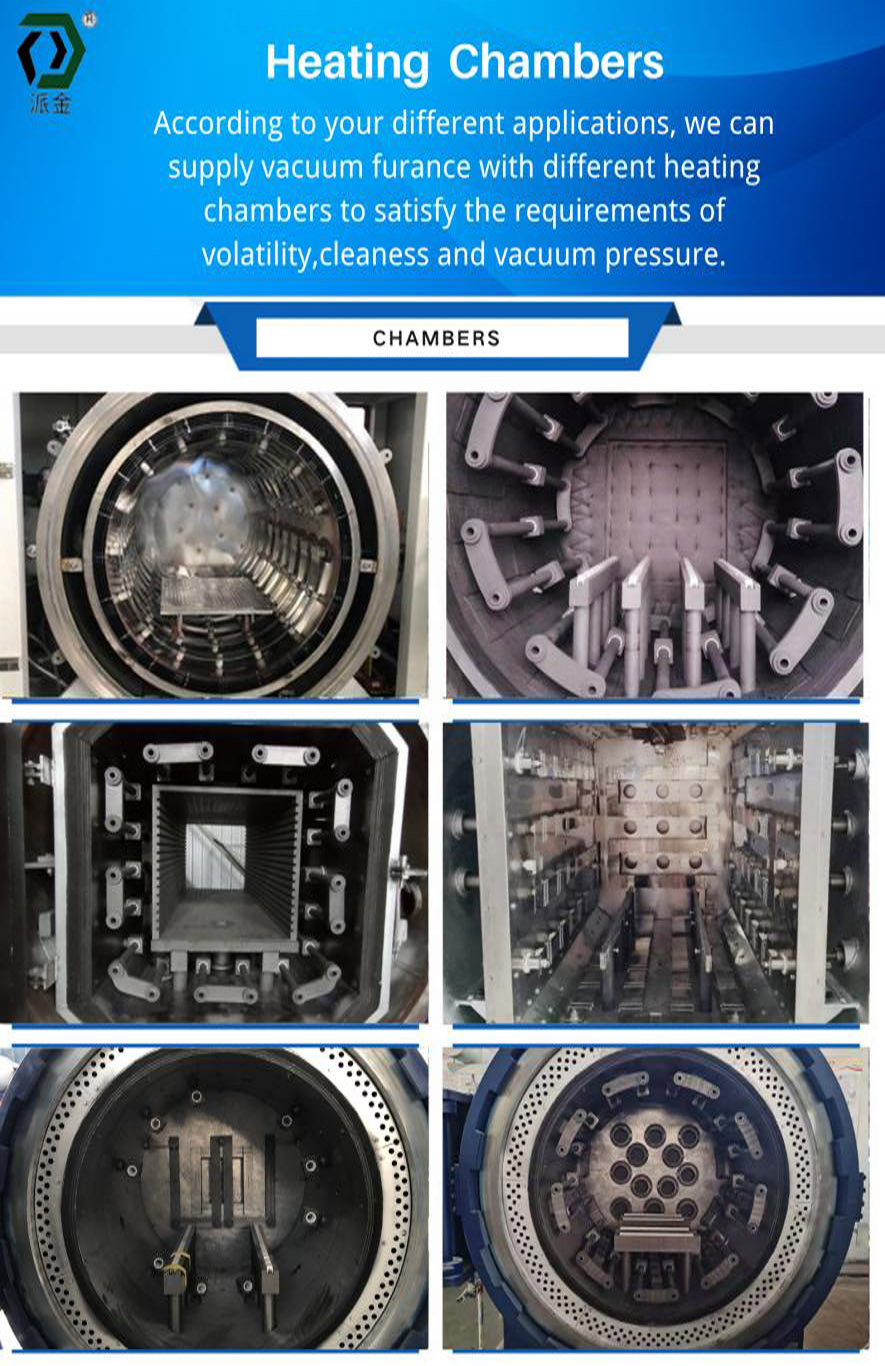 ---
---
Previous:
High temperature vacuum brazing furance
---
Write your message here and send it to us