Vacuum oil quenching furnace Horizontal with double chambers
Product Detail
Product Tags
Paijin Vacuum oil quenching furnace is one of our star products, in our design, We have fully considered the characteristics of vacuum oiling process, strengthened the control of quenching oil temperature and frequency conversion control of mixing device, and can achieve perfect oiling conditions. At the same time, we have strengthened the sealing of the heating furnace and the insulation design of heating elements, reduced the pollution of heating elements and furnace caused by vacuum oil pollution, and prolonged the service life of the vacuum furnace.
1. High temperature uniformity: Its heating elements are evenly set all around the heating chamber makes its temperature difference is less than 5 degrees.
2.Capable of continuous production: it has separate heating room and quenching room.
3.Better cooling uniformity, less work piece deformation: Oil stirrer with variable frequency speed controller and flow guide mechanism.
4. It's capable of : constant temperature quenching, isothermal quenching, convection heating, vacuum partial pressure.
5. Good mechanical action stability, big load weight, and the material vehicle is automatically operated.
6. With whole AI control system and an extra manual operating system.
7. Smart and easy for process programming, stable and reliable mechanical action, automatically, semi automatically or manually alarming and displaying the faults.
Standard model specification and parameters
Model

PJ-OQ557

PJ-OQ669

PJ-OQ7711

PJ-OQ8812

PJ-OQ9916

Effective hot zone LWH (mm)

500*500* 700

600*600* 900

700*700* 1100

800*800* 1200

900*900* 1600

Load Weight(kg)

300

500

800

1200

2000

Maximum temperature(℃)

1350

Temperature control accuracy(℃)

±1

Furnace temperature uniformity(℃)

±5

Maximum vacuum degree(Pa)

4.0 * E -1

Pressure raise rate (Pa/H)

≤ 0.5

Transfer time (s)

10

10

15

20

30

Gas cooling pressure(Bar)

2

Furnace structure

Horizontal, Double chamber

Furnace door opening method

Hinge type

Drive method of heat insulation door

Mechanical type

Heating elements

Graphit heating elements

Heating chamber

Composition structure of Graphit hard felt and soft felt

Air cooling type

Internal heat exchanger

PLC & electric elements

Siemens

Oil flow type

Paddle mix type

Temperature controller

EUROTHERM

Vacuum pump

Mechanical pump and roots pump
Customized optional ranges


Maximum temperature

600-2800 ℃

Maximum temperature degree

6.7 *  E -3 Pa

Furnace structure

Horizontal, Vertical, double chambers or multi chambers

Door opening method

Hinge type, Lifting type,Flat type

Heating elements

Graphit heating elements, Mo heating elements; Ni-Cr




Alloy Strip heat element

Heating chamber

Composed Graphit felt; Alloy metal reflecting screen; Stainless steel reflecting screen

Air cooling type

Internal heat exchanger; Out cycle heat exchanger

Oil flow type

Paddle mix type; Nozzle inject type

Vacuum pumps

Mechanical pump and roots pump; Mechanical, roots and diffusion pumps

PLC & Electric elements

Siemens; Omron; Mitsubishi; Siemens

Temperature controller

EUROTHERM;SHIMADEN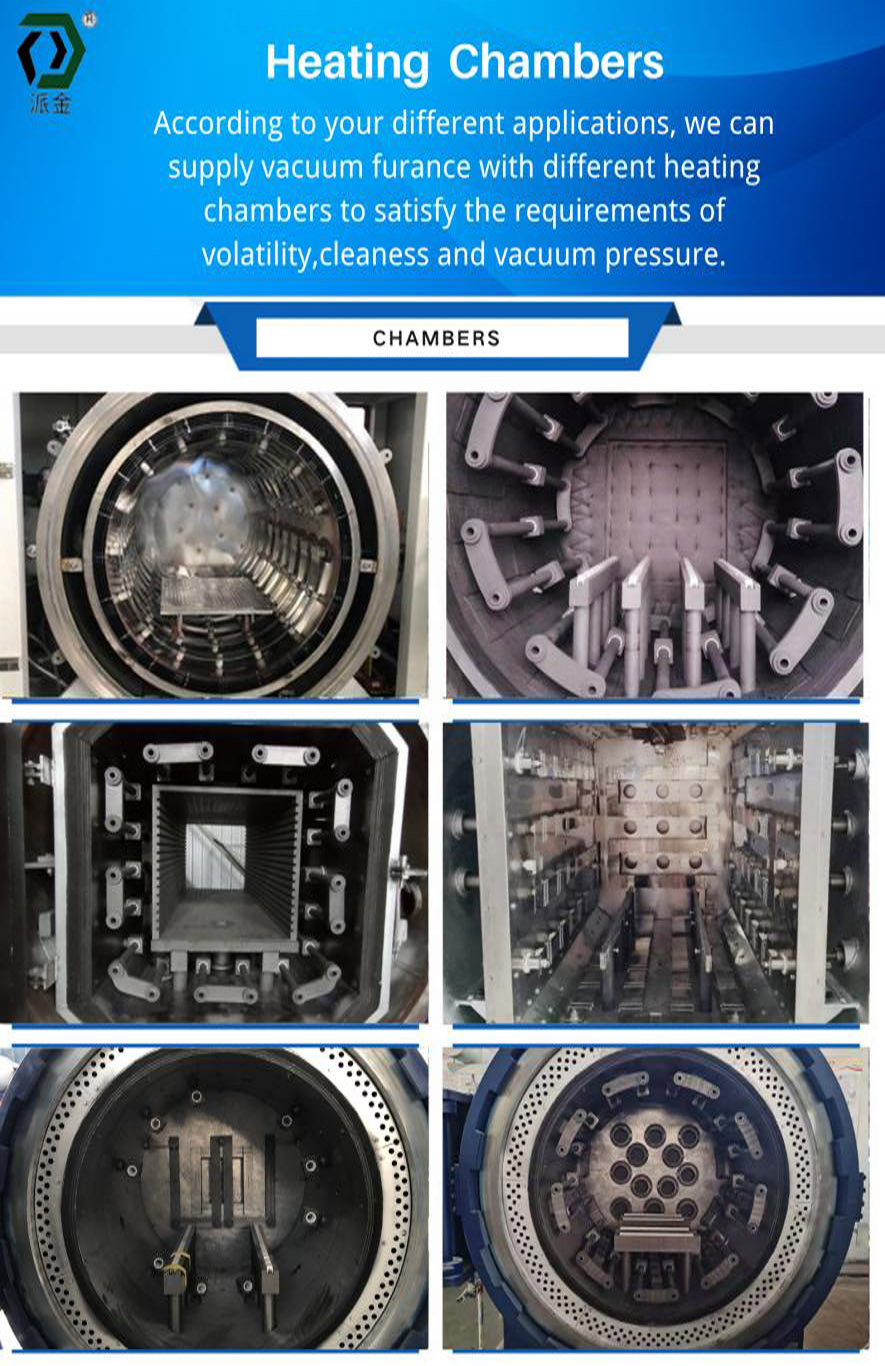 ---
Previous:
Vacuum water quenching Furnace
---
Write your message here and send it to us