Horizontal double chambers carbonitriding and oil quenching furnace
Product Detail
Product Tags
Description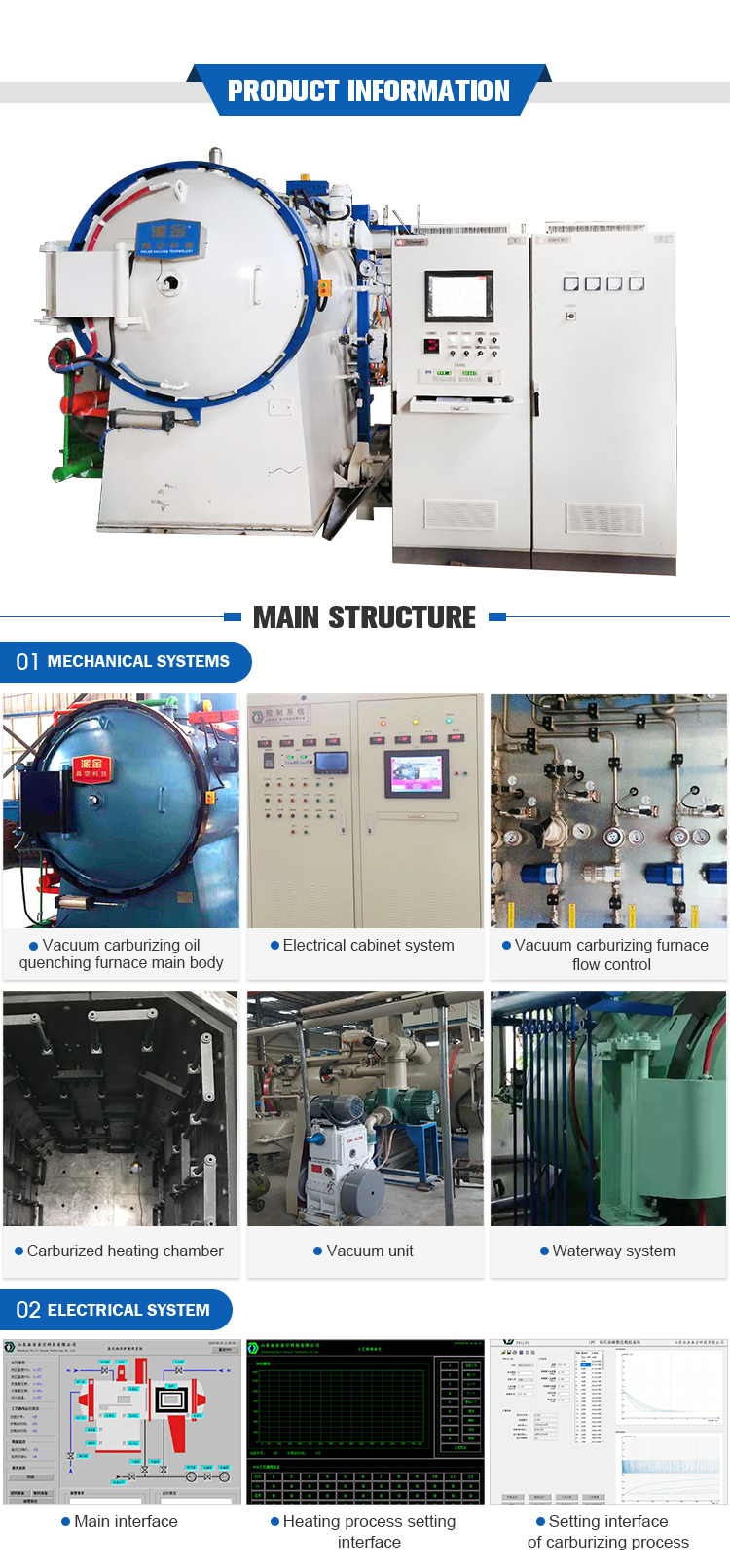 Application
The vacuum double-chambers low-pressure carbonitriding oil quenching furnace has various functions including carburizing, carbonitriding, oil quenching and pressure air-cooling. Is mainly used for quenching, annealing, tempering the die steel, stainless steel, high-speed steel, high-alloy steel tools; and carburizing, carbonitriding quenching the medium or low-carbon alloy steel. It can used for one-time carburizing, pulse carburizing and other carburizing and cabonitriding processes.
Characteristic
1.High intelligent and efficient. It is equipped special developed vacuum low-pressure carburizing simulation software.
2.Good temperature uniformity. heating elements are evenly arranged 360 degrees around the heating chamber.
3.No carbon black pollution. The heating chamber adopts the external insulation structure to prevent the pollution of the carbon black in carburizing process.
4.Good cooling uniformity and speed,less workpiece deformation. Its quenching stir device driven by frequency conversion and with guiding device.
5.Its functions including:Thermostatic oil quenching, Isothermal quenching, convective heating, vacuum partial pressure.
6.Frequency conversion stirring quenching, channeling quenching, pressure quenching.
7.Good carburized layer thickness uniformity, Carburizing gas nozzles are evenly arranged around the heating chamber, and the thickness of carburized layer is uniform.
8.Smart and easy for process programming, stable and reliable mechanical action
9.Automatically, semi-automatically or manually alarming and displaying the faults.
Product specifications
| | | | | | | |
| --- | --- | --- | --- | --- | --- | --- |
| Parameter/model | PJ-ST446 | PJ-ST557 | PJ-ST669 | PJ-ST7711 | PJ-ST8812 | PJ-ST9916 |
| Hot zone dimesion(W*H*L mm) | 400*400*600 | 500*500*700 | 600*600*900 | 700*700*1100 | 800*800*1200 | 900*900*1600 |
| Load capacity (kg) | 200 | 300 | 500 | 800 | 1200 | 2000 |
| Max temperature (℃) | 1350 | 1350 | 1350 | 1350 | 1350 | 1350 |
| Temperature uniformity(℃) | ±5 | ±5 | ±5 | ±5 | ±5 | ±5 |
| Vacuum degree (Pa) | 4.0 E -1/ 6.7 E -3 | 4.0 E -1/ 6.7 E -3 | 4.0 E -1/ 6.7 E -3 | 4.0 E -1/ 6.7 E -3 | 4.0 E -1/ 6.7 E -3 | 4.0 E -1/ 6.7 E -3 |
| Pressure rise rate (Pa/h) | ≤ 0.5 | ≤ 0.5 | ≤ 0.5 | ≤ 0.5 | ≤ 0.5 | ≤ 0.5 |
| Transfer time(S) | ≤ 15 | ≤ 15 | ≤ 15 | ≤ 15 | ≤ 15 | ≤ 15 |
| Carbonitriding medium | C2H2 + N2  + NH3 | C2H2 + N2  + NH3 | C2H2 + N2  + NH3 | C2H2 + N2  + NH3 | C2H2 + N2  + NH3 | C2H2 + N2  + NH3 |
| Carbonitriding pressure (mbar) | 5-20 | 5-20 | 5-20 | 5-20 | 5-20 | 5-20 |
| Control method | Multi-pulse | Multi-pulse | Multi-pulse | Multi-pulse | Multi-pulse | Multi-pulse |
| Quenchant | Vacuum rapid quenching oil | Vacuum rapid quenching oil | Vacuum rapid quenching oil | Vacuum rapid quenching oil | Vacuum rapid quenching oil | Vacuum rapid quenching oil |
The above parameters can be adjusted according to the process requirements and are not used as the basis for acceptance. The specific technical scheme and agreement shall prevail
Configurition selection
| | |
| --- | --- |
| Structure | Horizontal double chambers, Vertical double chambers |
| Intermediate insulation door | Mechanical drive, Pneumatic drive |
| Heating chamber | Composite structure of Graphite heating element and Graphite felt Composite layer |
| Vacuum pump set and vacuum gauge | Europe Brand, Japan Brand, or Chinese Brand |
| Quenching tank stirring mode | By blade, by nozzle |
| PLC | Siemens, Omron, Mitsubishi |
| Temperature controller | EUROTHERM, SHIMADEN |
| Thermocouple | S type thermocouple, Special-purpose thermocouple for carbonitriding |
| Recorder | Paper, paperless |
| Electrical components | Schneider , Siemens |

Company profile

---
Previous:
Vacuum carburizing furnace
Next:
---
Write your message here and send it to us