Vacuum Debinding and Sintering furnace (MIM Furnace, Powder metallurgy furnace)
Product Detail
Product Tags
1. Graphite insulation screen / metal screen optional, heating element 360 degree surround radiation heating, reliable insulation design.
2. Higher temperature uniformity and thermal efficiency
3. Vacuum partial pressure / multi-area temperature control function.
4. Fully automated equipment, perfect safety and abnormal alarm system.
5. Accurate process control to achieve consistent part quality and prevent pollution of parts and hot areas.
6. With sealed degreasing box and vacuum condenser to reduce pollution of heating chamber and unit.
7.Prevent pollution to the components in the furnace. The square degreasing box is used to deal with large number of molding additives.
8. It has the functions of flexible vacuum extraction, vacuum sintering, micro-positive pressure sintering and so on.
9. The latest thermal insulation structure and materials is used, the pressure resistance is strong, and the energy saving is obvious.
10.It has the functions of overtemperature and overpressure alarm, mechanical automatic pressure protection, automatic overpressure relief protection, action interlock and so on, high equipment safety.
11.Remote operation, remote fault diagnosis and remote software upgrade functions,etc.
Standard model specification and parameters
Model

PJSJ-gr-30-1600

PJSJ-gr-60-1600

PJSJ-gr-100-1600

PJSJ-gr-200-1600

PJSJ-gr-450-1600

Effective hot zone LWH (mm)

200*200* 300

300*300* 600

300*300* 900

400*400* 1200

500*500* 1800

Load weight(kg)

100

200

400

600

10000

Heating power (kw)

65

80

150

200

450

Maximum temperature(℃)

1600

Temperature control accuracy(℃)

±1

Furnace temperature uniformity(℃)

±3

Work vacuum degree(Pa)

4.0 * E -1

Pumping rates(to 5 pa)

≤10 min

Pressure raise rate (Pa/H)

≤ 0.5

Debinding rate

>97.5%

Debinding method

N2 in negative pressure,H2  in atmosphere

Input gas

N2,H2,Ar

Cooling method

inert gas cooling

Sintering method

Vacuum sintering,partial pressure sintering,pressureless sintering

Furnace structure

Horizontal, single chamber

Furnace door opening method

Hinge type

Heating elements

Graphit heating elements

Heating chamber

Composition structure of Graphit hard felt and soft felt

Thermocouple

C Type

PLC & electric elements

Siemens

Temperature controller

EUROTHERM

Vacuum pump

Mechanical pump and roots pump
Customized optional ranges




Maximum temperature

1300-2800 ℃

Maximum temperature degree

6.7 *  E -3 Pa

Furnace structure

Horizontal,Vertical, Single chamber

Door opening method

Hinge type, Lifting type, Flat type

Heating elements

Graphit heating elements, Mo heating elements

Heating chamber

Composed graphit felt, All metal reflecting screen

Vacuum pumps

Mechanical pump and roots pump; Mechanical, Roots and diffusion pumps

PLC & electric elements

Siemens; Omron; Mitsubishi; Siemens

Temperature controller

EUROTHERM;S HIMADEN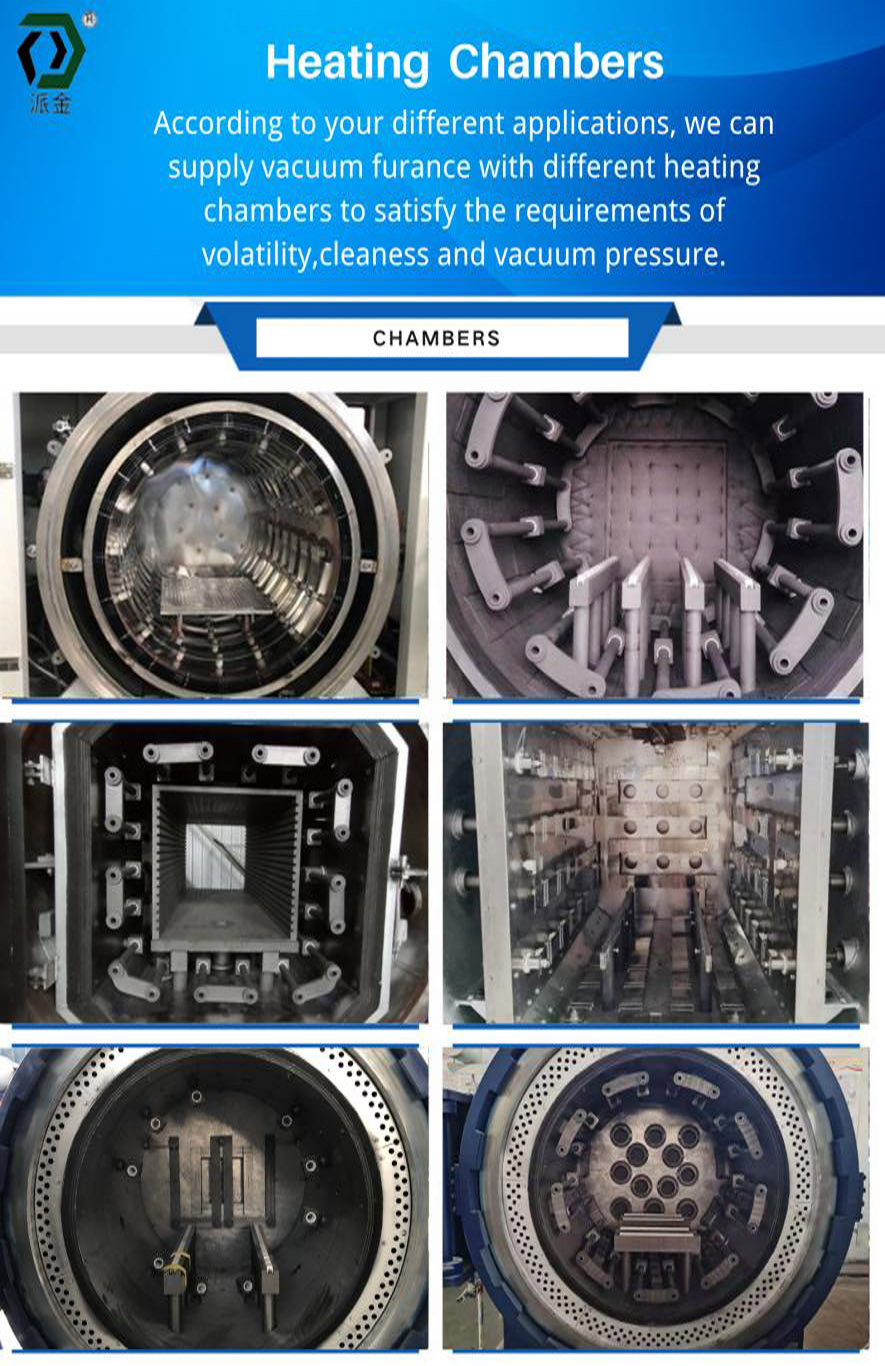 ---
Previous:
Vacuum Hot pressure Sintering furnace
---
Write your message here and send it to us